Built by Philip Chatwin in 1909, the old Lloyds Bank Building at Five-Ways, Birmingham, stands as a testament to architectural excellence. This iconic structure recently underwent a series of vital maintenance works led by S Wallace Developments, who sought a trusted partner for scaffolding services. Anton Scaffolding stepped in to provide safe access for this remarkable restoration project.

Preserving a Timeless Legacy
Restoring historic landmarks demands precision, expertise, and an unwavering commitment to preserving the building's historical significance. The old Lloyds Bank building, with its stunning architectural features, is a heritage gem that required meticulous care during maintenance and restoration. S Wallace Developments recognised the need for a scaffolding partner capable of meeting their exacting standards.
Anton Scaffolding: The Preferred Choice
S Wallace Developments' quest for a reliable scaffolding provider led them to Anton Scaffolding, a company renowned for its commitment to excellence. Anton Scaffolding's impressive track record, professionalism, and dedication to safety made them the ideal choice for this project.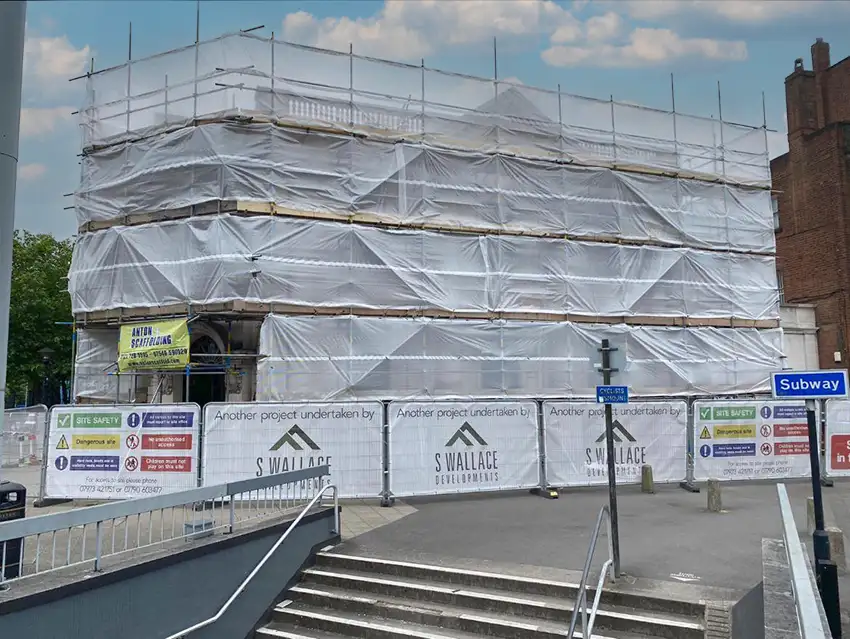 Erecting Three Elevations of Scaffolding
Anton Scaffolding had to erect scaffolding along three elevations of the building. This job involved creating various boarded lifts to ensure secure access for the maintenance team.
Preserving the architectural integrity of the building was a top priority. Anton Scaffolding installed Monoflex sheeting to shield the structure during the restoration process. With the brickwork requiring careful cleaning using pressure washers, the Monoflex sheeting proved indispensable in protecting the building from any potential damage, as well as protecting personnel below from any debris.
Collaboration with Midland Masonry
Collaboration is often key in historic restoration projects. For the old Lloyds Bank building, Anton Scaffolding and S Wallace Developments worked alongside Midland Masonry, a specialist stonemasonry, conservation, and restoration company based in Market Drayton. Midland Masonry's expertise in stone repairs played a crucial role in revitalising this architectural masterpiece.
A Testament to Craftsmanship
The completion of this project stands as a testament to the craftsmanship and dedication of all involved. S Wallace Developments' commitment to preserving the building's historical importance, Anton Scaffolding's precision in providing safe access, and Midland Masonry's expertise in stone repairs have collectively breathed new life into the building.
Preserving the Past, Securing the Future
Restoration projects like the Old Lloyds Bank building highlight the importance of safeguarding our architectural heritage. With the right partners and a commitment to excellence, these structures continue to grace our cities, preserving their rich history for generations to come. Anton Scaffolding is honoured to have played a pivotal role in this preservation journey, ensuring that this iconic building remains a symbol of Birmingham's architectural legacy.